With an infinite reel of bold Instagram posts, Beirut pop-art provocateur Saint Hoax shocks and awes with smart remixes of celebrities and world leaders.
Saint Hoax is a pseudonymous of a Syrian artist whose self-coined "POPlitical art" repurposes political and popular ethos. Hoax's anonymity allows for uninhibited creative expression, and further emphasizes the art rather than the artist behind it.  He uses various to subversively depict political and popular figures. He's also known for taking  Disney characters out of context and using them for social awareness.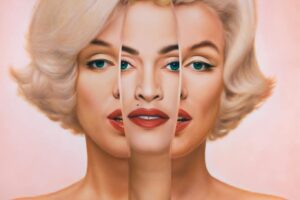 Saint Hoax is known for using social media as a main platform to publish most of his work. Since creating his social media accounts in January 2014, he has been engaging with audiences on daily basis.
POPOLITICALLY UNCORRECT EXHIBITION is an expression of the artist SAINT HOAX. The artist has made waves across the Internet with a project as unique as it is culturally relevant. This exhibit consists of a series of  illustrations from depicting prominent world leaders in drag, to expired meat found in the local super market or even as participants doing the unimaginable.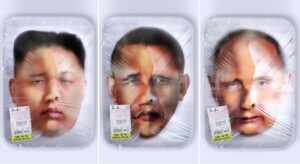 Included in the POPOLITICALLY UNCORRECT EXHIBITION are artworks focused anywhere from Russia's Vladamir Putin, to America's former President George Bush.
Here the government chiefs are reworked into female forms, wearing ornate jewels and extravagant hairdos. Struck by the richness of the glamor oriented culture,  Saint Hoax subsequently bridged a connection to the bureaucratic sphere.
Hoax began his series of political drag Queens as a mere reflection of the current political situation that has taken its toll not only on the Arab region, but also on the entire world. "I perceive the idolized political/religious leaders as performers, and quite frankly, they're no longer entertaining." explains.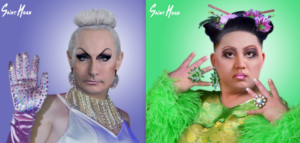 Hoax "Like drag queens, political/religious leaders are expected to entertain, perform and occasionally lip-sync a public speech. But unlike drag queens, the fame hungry leaders don't know when to take their costumes off."
"There's nothing more reassuring than the demystification of legends – a confirmation that greatness is attainable yet transient." – Saint Hoax