A concept of a modern lifestyle, interpreted by Gavi dei Gavi ® "Black Label", a wine that has been the ambassador of the company for 103 years, whose aim is to involve and empower a community of eclectic wine lovers who are open to different experiences.
Gifting emotions in a glass, to enter a world full of charm: this is the leitmotif that guides every step of La Scolca. Every nuance, every reflection is sought after and pursued with great care; the moment of tasting becomes a moment of pure pleasure and emotion.
It all begins in the cellar, immersed in the woods of Gavi. A territory that offers to the most attentive consumer all the excellence and quality of our most iconic wines, to be tasted during the breaks of a golf afternoon, after an ebike excursion in our vineyards or a day of shopping in Serravalle, a day of truffle tasting or during a tasting lunch in some of the best restaurants of basso Piemonte that will match our wines with the local cuisine.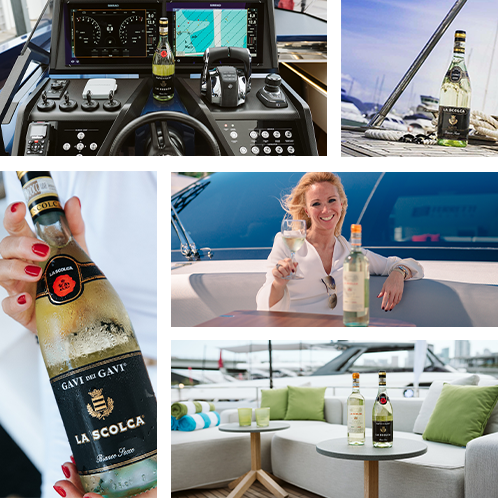 "The essence of Made in Italy that La Scolca represents is not only a synonym for high quality but also sets an example for an Italian lifestyle embodying culture, tradition, and attention to detail – all things that make toasts with our wines memorable memories" says Chiara Soldati, newly appointed Knight of the Order of Merit for Labour and CEO of La Scolca. "I am delighted to be this year's partner for Boat International in Monte Carlo and to personally participate to this event to represent our century-old passion, especially with the Gavi dei Gavi that will accompany the evenings on the calendar".
The experience continues in a journey around the world that touches the most glamorous capitals: Sylt, Milan, Cannes, Genoa, Monte Carlo, Ft Lauderdale, Miami and all the most popular destinations for globe-trotters. Colors, sounds, flavors, music and atmospheres – a "state of mind", most of all – that transport whoever chooses the Brand La Scolca in a new dimension of lifestyle, no longer and not only conceived as a possession but as bien vivre, that is to say knowing how to live well and never losing the ability to get excited. In a few words, passion, audacity, contemporaneity.