"Admission to be yourself" è il nome dell'appuntamento artistico interattivo e immersivo disponibile fino a metà marzo 2022: per la prima volta le stanze sono nella metropoli dopo il successo riscosso a Bologna
La mostra interattiva Admission to be yourself  sarà presente a Milano fino 10 marzo 2022.  Beautiful Gallery ha creato un percorso che si pone come obiettivo di farti pensare come essere veramente felice concentrandoti su te stesso, su chi sei nel profondo, a prescindere dagli altri"
Ruolo fondamentale del concetto di Beautiful Gallery è la fotografia, questa volta non come oggetto di venerazione nei confronti di vip e influencer, ma come occasione per immortalarsi in un mondo decisamente fuori dagli schemi, evocativo e sognante.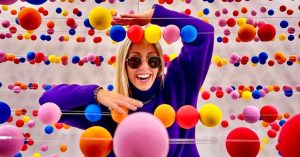 PRENOTAZIONI:
La mostra Admission to be yourself  durerà fino al 10 marzo 2022 presso la Beautiful Gallery di via Bergognone 26.
Da martedì a  venerdì con orario 15:00-19:00
Weekend dalle 10:00 alle 19:30
L'ingresso è di 18 euro per l'intero, 13 euro sino a 17 anni.