Every few days, Winnie Au goes to the dog park with her studio manager and her intern to hunt for dogs. They're looking for the most beautiful ones, the ones with the loveliest fur and most eye-catching color. 
It's less sinister than it sounds though – Winnie is a photographer, and she's looking for dogs to include in her project, cone of shame.
Any person who's been within shouting distance of a dog owner has probably heard the term "cone of shame," a euphemism for the medically prescribed devices that dogs must sometimes wear. The cones, traditionally uncomfortable and made of stiff plastic, keeps dogs away from their post-surgery stitches or bothersome skin conditions.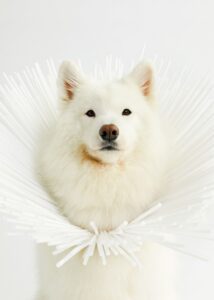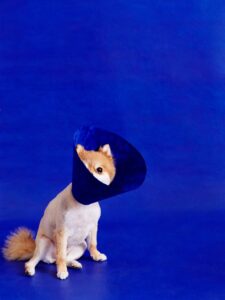 Photographer and dog mom Winnie Au sought to flip the narrative on these puppy-eyes-inducing devices by showcasing dogs in a variety of delightfully frilly and fluffy cones. The photo series, Cone of Shame complements each canine's body type, fur, and personality with handcrafted cones by costume designer Marie-Yan Morvan.
Au shares with Colossal that the featured dogs were cast from all over New York, as she and Morvan sought to discover interesting looking dogs, and also match canines to pre-existing cone concepts. The pair worked collaboratively to draw from Au's loose ideas like "sea urchin" or "cotton candy," and homed in on feasible designs and materials.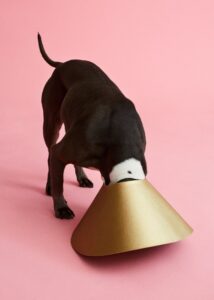 Textured cones were formed from feathers, egg shells, and straws, and sleek designs were made with faux flower petals and makeup application wedges.
"When I concepted this series, it was meant to be more abstract and less straightforward portraiture," the photographer explains. "So when I looked at the dogs, I would look at their fur as one element, the backdrop color as another element, and then the cone style would be the final element. The goal was to put the pieces together like an abstract painting and make sure the colors and tones worked in symmetry with each other."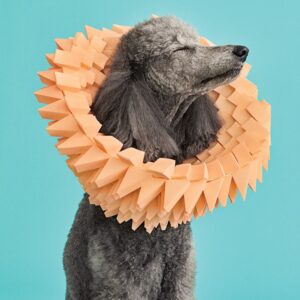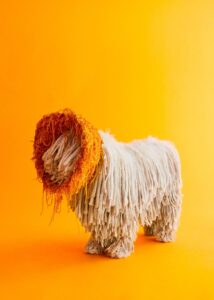 Au has just released the "Cone of Shame" images in note card format, as part of a Kickstarter campaign hat supports Animal Haven's Recovery Road fund. You can follow Winnie Au and Marie-Yan Morvan on Instagram.