Seyschelles: Six Senses a true "Félicité"
Six Senses Zil Pasyon is located on Félicité, a private island where massive granite rocks and coral fringed beaches create an air of drama and beauty while seamlessly fusing land and sea. On this ecological jewel of Seychelles, step in tune with nature or swim with the turtles while enjoying an intimate destination that offers every comfort. 
Its 30 pool villas and three- and four-bedroom residences offer an oasis of serenity nestled between the verdant foliage and turquoise waters of the Indian Ocean. With its perpetual summer, the island is ideally located outside the cyclone belt just 30 nautical miles northeast of the Seychelles International Airport.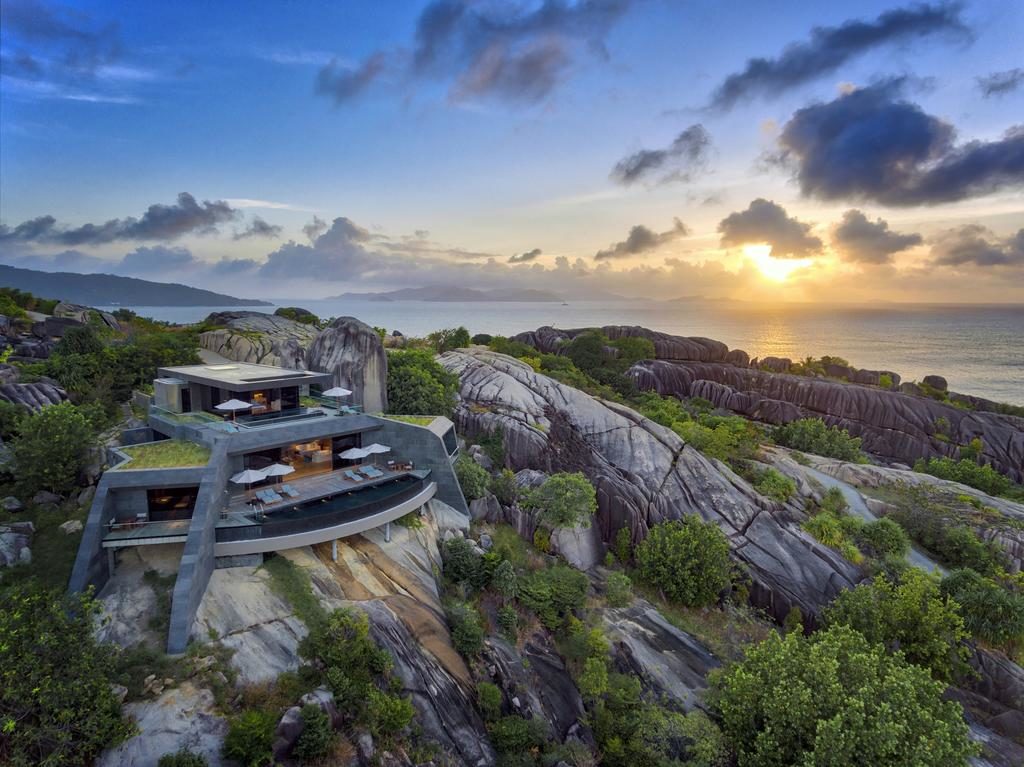 The design of Six Senses Zil Pasyon was conceptualized and brought to life by renowned architect Richard Hywel Evans of London's Studio RHE, with the aim of keeping an untouched look for Félicité.
Hideaway Pool Villas are a generous 175 square meters with a private sundeck, an infinity pool occupying 20 square meters and beautiful views embraced by tropical vegetation to ensure privacy. Bow windows expand and immerse into raw nature or when closed, create a personal climate-controlled environment.
The vaulted ceiling living area comprises a walk-in closet that connects to a spacious bathroom featuring a swing in front of a bathtub plus a separate rain shower and toilet. The locally inspired décor combines with advanced technologies to control air conditionning, lighting and TV.
Panorama Pool Villas
are set in high locations which offer glorious views of the Indian Ocean contrasted by the lush greenery of Felicite Island.
During the day, open the bedroom's large window to connect with the outside deck and plunge into your personal infinity pool. These villas also feature an outside daybed and a dining table to enjoy a private lunch or dinner. From the bathroom, you can enjoy the same panoramic view seated on the swing, or directly from the bathtub.
SPA
Offering exceptional sensory experiences due to the perfect synergy of its magical oceanfront location and sophisticated island design, Six Senses Spa Zil Pasyon features five double treatment villas that reflect the island's eco-system, colors, textures and themes. The elevated saltwater pool with sundeck, yoga and meditation pavilion enhance personal journeys.
The spa's wide range of holistic wellness, rejuvenation, local and African inspired treatments are designed around the natural giving properties of the island's fauna and flora and its eco-system. There's an extensive menu of signature therapies plus Six Senses Integrated Wellness.
Dining
Dining and drinks at Six Senses Zil Pasyon run the gambit of relaxed sophistication and memorable experiences. There is a choice of several restaurants and bars with much of the produce coming from the on-site organic garden and the surrounding islands.
Cuisine of the Seychelles is a eclectic mix of the cultures that have come to her shores over past centuries. The African, the Chinese, the French, the English and the Indians all brought their own culinary staples and cooking techniques when settling in the islands. Drawing from these diverse heritages, Six Senses Zil Pasyon offers both traditional Seychellois cooking and our interpretation of island cuisine and beyond.
Experiences
Six Senses Zil Pasyon enjoys a private and secluded setting with a host of activities on hand to entertain all ages and satisfy the most diverse and discerning of tastes. From watersports and beach activities to diving and discovering nature, Six Senses Zil Pasyon has exceptional pursuits for everyone.