The First Company – Luxury Rooms Suites & Apartments – was founded to welcome its guests in amazing locations offering stays in elegant accommodations. All rooms are equipped with modern furniture and comforts.The First group offers an unique experience in one of the most extraordinary places in Italy.
After years of experience abroad, the founders Sirine Hammani and Francesco Migliore chose this side of the Ligurian Riviera to undertaking and creating luxury and exclusive rooms. The careful evidence about details, the cosmopolitan atmosphere combined with the preservation of the existing, generate in the guests a feeling of unexpected beauty that will leave them with a pleasant lasting memory.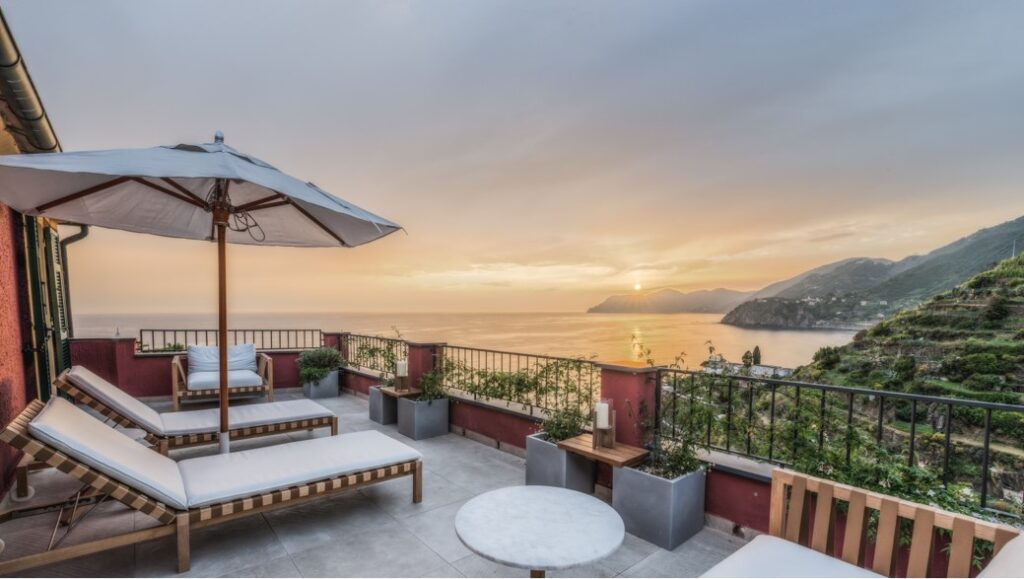 The First Luxury hotel is located in the heart of the little Marina, in a historical building dating back to the 13th century from which you will enjoy the best view of the village.
You will appreciate its position for its proximity to the railway station, to the best restaurants and artisan shops.
The Honeymoon Suite and Luxury Apartment are designed to let you enjoy a relaxed atmosphere between the sound of the sea and the breathtaking sunsets.
Located in the heart of Cinque Terre, the iconic "Red House" will leave you breathless. This historic building is situated in the highest part of the village, between the cliffs and the glittering of the sea.
The First Luxury Hotel boasts a Royal Honeymoon Suite with Jacuzzi and terrace overlooking the sea, a Majestic Junior Suite with sea view and balcony and a Queen deluxe room with a side sea view.
All the accommodations are decorated with the highest care and elegance, equipped with high quality Italian furniture.
Staying at The First Luxury Hotel you can breathe a romantic and peaceful atmosphere, perfect for couples looking for a special place to celebrate unique events such as a honeymoon or an anniversary.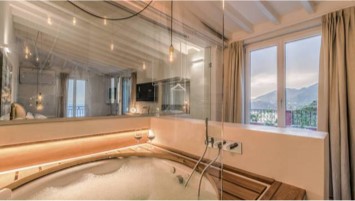 If  you would like  to visit the Cinque Terre villages in an easy way enjoying the comforts of the city, The First is your ideal choice
They are located in the elegant historic center of La Spezia, close to the Pier where you can take ferries to the Cinque Terre/ Portovenere and to the main Railway Station where you can take the Cinque Terre Express connecting the town to the 5  Villages every 20 minutes.
You will love living the city life, there are so many bars, restaurants and typical shops.
The Luxury hotel rooms and suites are located in an historical and elegant building and are furnished with an accurate attention to details.