Can a holiday in Apulia turn into an opportunity to literally change your life overnight?
Giovanna and Francesco, the owners of Lamia del Riccio, would undoubtedly answer "yes"!
They were in Apulia in 2018 and Giovanna was invited by her husband to see what at that time was just a construction site. Her husband had already visited the Property, but he felt her wife wouldn't have liked it. He was definitely wrong: not only did she fall in love with the
Property but she went back home with a "promise to buy"….and a feeling of anxiety that grew more and more as soon as she realized that buying was the easiest part and – apart from the initial enthusiasm, the task was much harder. There were hundreds of villas in the areas of Ostuni and they were all beautiful. How could they give their Property a unique personality, with a strong connection to the Apulian heritage, yet with a modern twist? And how could they follow the restoration of the Property if they lived 900 km away from Apulia?
By a series of strange circumstances, a common friend introduced them to Gian Paolo Guerra, a famous Interior Designer from Rome, who – at that time, had just ended the restoration of its own home/studio in Ostuni. He was leaving for Rome the same day the owners were leaving Apulia ("a very strange coincidence that has made me think everything was already "planned" much before I went to Apulia", says Giovanna).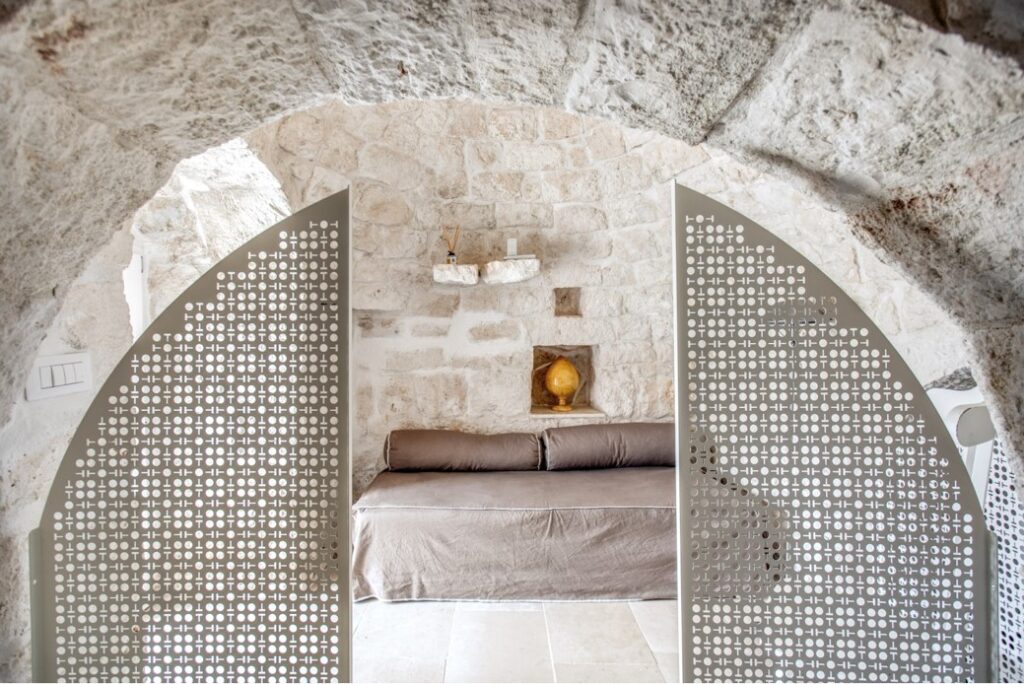 They met very early in the morning. Gian Paolo Guerra found the project interesting and they found him the proper interpreter of what they had in mind: making their villa become a "nest" for their Guests, the place where you feel at home, even if "away from home".
Lamia del Riccio is – indeed, the perfect gateway to slow living: nestled in 1 hectare of extensive grounds dotted with olive and fruit trees and Mediterranean vegetation, it has all the traditional, rustic charm of a restored historic dwelling while offering a contemporary flair.
"While the idea of Lamia del Riccio was all about escape and comfort and relax, it was also important to us that it looked elegant and sophisticated and that people felt how much love and passion we put into this project".
The Property can host up to 6-8 people and is made of 2 main units, one of which is an old "lamia", a typical Apulian dwelling. Adjacent to the lamia – with its own independent entrance, is an old Saracen trullo, a conical construction which is typical of this region.
The lamia features 2 double bedrooms with their own en-suite bathroom, while the adjacent trullo features a real suite with a queen-size bed and en-suite bathroom located in an open alcove. The bathroom is a real "gem": carved into the stone of the ancient trullo, it offers a double shower and an unparalleled cosy atmosphere.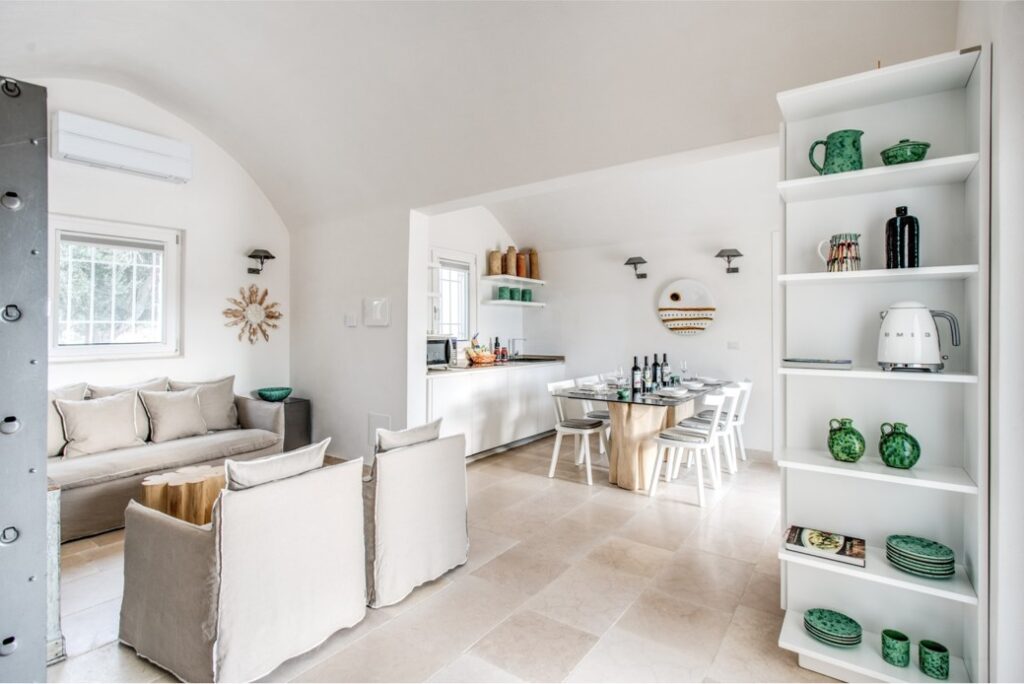 The interior design of Lamia del Riccio – curated with superb care by Gian Paolo Guerra, is a stylish mix of old – the whitewashed stone, the trulli and the lamia on one hand, and new – contemporary furniture and sleek fittings, on the other.
If you ask Giovanna what she loved most, she will tell you she loved looking for the furniture and the decoration pieces of the villa:
"Nothing was left to chance. Working with Gian Paolo Guerra was a great opportunity to discover Apulia through its craftsmanship. It was also a great chance to learn that all objects can have a second unexpected life and that – if you push your imagination a little bit further, an old ladder can be used to hold towels and a dish can become a "painting" decorating the kitchen's wall. What we didn't want was to recreate old. Instead, we wanted to re-use old things in a more contemporary setting".
The hearty tones of the interiors and the textures selected for the décor relate to the natural color of the local stone utilized for the construction of this typical rural dwelling. The absolute white of the lime matches with the grey and taupe neutral tones, used mainly for the high-end pieces of furniture and the upholstery. The use of wood creates a warm atmosphere.
"The simple yet effective neutral color palette could be a little bit dull , so we decided to punctuate it with a very few hints of color that take us back to the colours of this region: honey yellow to recall the sun and green to recall the olive trees. Some of the colors of the ceramics that are in the villa were custom made by some of the best craftsmen in Grottaglie", says Giovanna.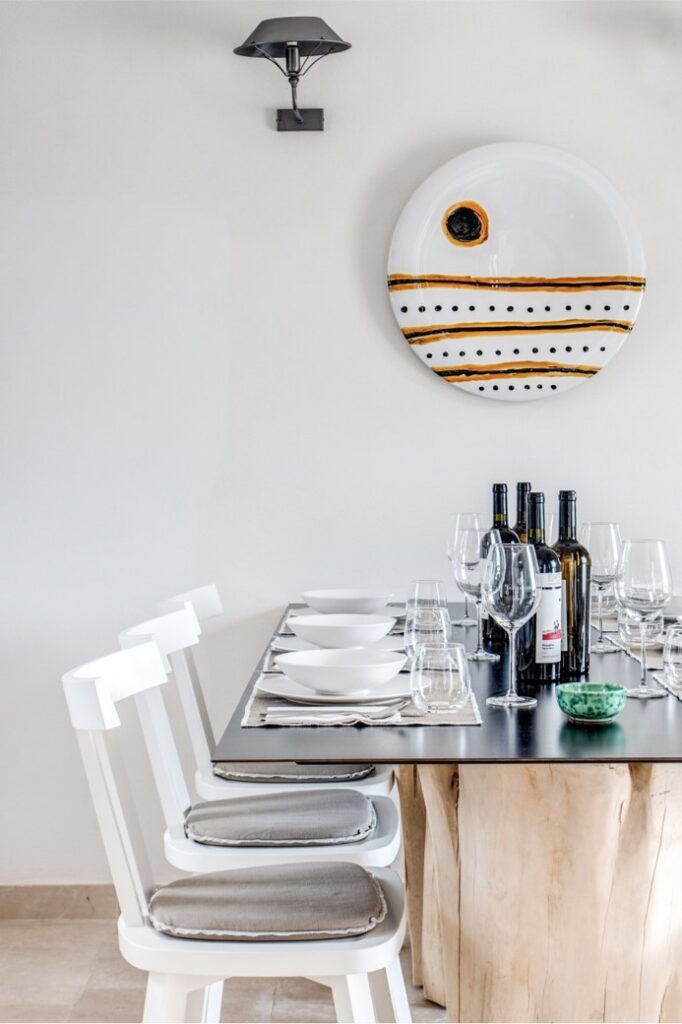 The main attraction of Lamia del Riccio, what we would call its "wow" effect, is the magnificent outdoor area where to  enjoy a breathtaking landscape.
The villa offers plenty of relaxation opportunities, under the shadow of ancient olive trees or of small gazebos scattered along the lawn.
The outdoor gazebo overlooking the swimming-pool with its fully equipped kitchen is the perfect place for hour-long meals to enjoy with friends and family. A lounge area with a comfortable sofa and armchairs complete the relaxing atmosphere of this magical place, making it the epitome of chic Italian al fresco living.
"We wanted our Guests not only to enjoy the interior design of the villa, but also to enjoy a real Italian summer, to learn cooking, to enjoy the simplicity of the Apulian food, to have a place where to chat for hours. We wanted to recreate the atmosphere we felt when visiting Apulia during that 2018 summer: beautiful places, lovely people and delicious food. A combination of 3 elements we have hardly ever found elsewhere in Italy".