The otherworldly interiors within Baccarat Hotel were both imagined and realized by Gilles & Boissier.
The acclaimed Paris-based design duo lavished their attention on its soaring salons and 114 rooms and suites, each accented with Baccarat crystal and the fiery crimson shade of Baccarat red.
The hotel's modern, vibrantly eccentric social spaces are anchored by luxe elements—pleated silk walls, a rug printed in a crystal glass pattern, a monumental white marble table.
New York design masters Tony Ingrao and Stephen Sills, respectively, oversaw the aesthetics of Baccarat's 60 magnificent residences.
Private Art Collection
Parisian art connoisseur Frédéric Chambre spent eighteen months in Paris auction houses seeking extraordinary pieces for Baccarat Hotel New York.
The resulting collection, spanning from the 18th Century to present day, is eclectic: paintings, photography and compelling works in other mediums, all uniquely suited to Baccarat.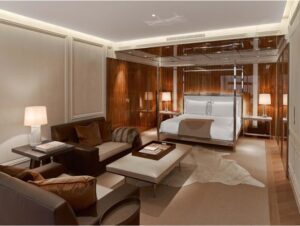 The Harcourt Vitrines
Beyond the exceptional artwork collected for the hotel by Frédéric Chambre, Baccarat Hotel New York tapped his talents to commission new work from 11 extraordinary artists. Each was given 10 Baccarat Harcourt glasses to incorporate into art. Diverse and inventive, these pieces are displayed as dramatically lit glass vitrines, standing silent and radiant in doorways of the suites.