Simone Guidarelli's boundless creativity covers the spaces of Il Salotto di Milano, prestigious location in the heart of Milan, on occasion of the special edition of Fuorisalone 2021.
The multi sensory journey begins by crossing the threshold of luxury in Corso Venezia 7: here the design develops through the Walldesign collection by Simone Guidarelli, in partnership with Officinarkitettura, an Emilian company skilled in wallcovering projects and production, and with Matrix International, Tuscan furniture firm of modernist inspiration. Focus of the exhibition is the sustainability of the used raw materials and the infinite customization opportunities.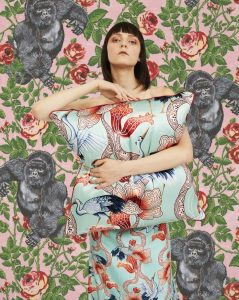 The Eco wallpaper by Simone Guidarelli, in partnership with Officinarkitettura, is a Made in Italy product made of cellulose, PVC free, breathable, extremely detailed in the color rendering of the selected patterns. The entrance to the Salotto di Milano conveys the vitality of the iconic Simone Guidarelli Walldesign's King of the Roses, which come alive from the wallcoverings tearing down the boundaries between horizontal and vertical surfaces.
The contamination between the environment and its guests will be emphasized thanks to a particular and impactful shooting set, with the ruffs especially created by the wise hands of the Sartoria Teatrale Arrigo Costumi. The journey goes on in the adjacent room where the flight of the herons rises as an absolute decorative element which, with Wings of Water, Eco wallpaper also created by Simone Guidarelli in partnership with Officinarkitettura, envelops the bystanders with designs and nuances with a taste of retrò.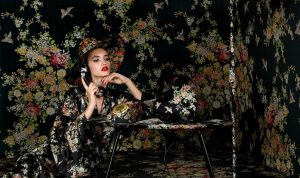 The seatings capture the attention: Arabesk is the original armchair produced by Matrix International, here custom-made and upholstered with the elegant Tree of Life printed fabric by Simone Guidarelli Walldesign, also in the unedited sofa size, the Arabesk Double, with its original mask shape. Around the mid-fifties, Folke Jansson, Swedish sculptor, painter, ceramist and designer, designed the innovative and successful armchair, not square and linear, but sculptural in its sinuous and cozy shape that was presented for the first time at the Salone di Gothenburg in 1955, affirming its success.
Focus on sustainability, the shell of the new Arabesk Double by Matrix International is realized in plasmix, a material made up of recycled plastics which, thanks to cutting-edge 3D printing technologies, gives life to durable, valuable, customizable and absolutely green creations. The prints and the elements blend smoothly, marking a passionate and contemporary interior and exterior time.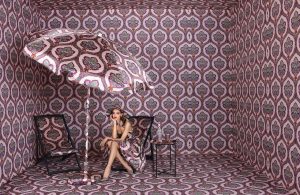 The presentation of the new Simone Guidarelli's project it was held on 6 September, with an event once again in compliance with the rules, followed by an exclusive cocktail party on the Salotto di Milano terrace, which could be accessed walking a corridor covered in the King of the Roses Gorillas by Simone Guidarelli Walldesign, with the Thomas Constantin's DJ set playing as a soundtrack of the soiree.
With this new project, Simone Guidarelli offers a luxury and green experience in the design world, expression of an absolute research in materials and style, everything precisely Made in Italy.