Some serious magic is happening at the mysterious basement of Dubai's Five Palm Jumeirah Hotel.
Dubai's MO has long been to upsize every quotidian experience; whether to create the world's biggest mall or an artificial island that's visible from space.
Little surprise then that even the ideal of the traditional speakeasy as a small cozy affair has now been turned on its head. For Toronto-based Studio Paolo Ferrari, the visual references splice Rome's Villa Farnese, the final Louis XIV-esque bedroom scene in 2001: A Space Odyssey, and Anish Kapoor's Cloud Gate sculpture in Chicago.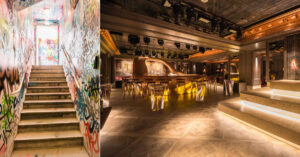 The result is an unapologetically theatrical set-piece in which clear cast resin tables, 1960s furnishings, and smoked oak panels flank a bronze-hued fiberglass bar whose sinuous curves recall both Dali and Zaha Hadid.
The bathrooms, lined with glass floors and mirrored walls, are attention grabbers – though, perhaps, not as much as the hidden doors in the main room that swing open for VIPs to literally drive into the speakeasy directly from the carpark