Zimbabwe-born rapper Tkay Maidza has always been ahed of her time. ambitious, confident, and armed with a vision for a genre-fluid future, she represents a new wave of artists challenging the definition of australian hip-hop.
Tkay Maidza is leaning into the joy of being lyrically forthright lately. "I think there came a point where I was just like, 'I literally don't care what anyone thinks about what I say,'" she says.
Tkay has been wrapping up the final installment of her mixtape trilogy, Last Year Was Weird: an expansive, unpredictable project that tackles self-representation, imagining a future shaped by optimism and balance, and celebrating your outsider status.
Lately, her lyrics feel more spontaneous and driven by her Sagittarius energy: no agenda, no lines to read between. "I'll have a melody and see what words fit," Tkay says. "Then somehow it'll be like, 'mind your own business.' Alright, cool. That's us today! It's trusting whatever dialogue I have in my mind. But I'm still guided by questions like, what's the energy? What's the path? How do I feel lately? That's how I decide what stays and what doesn't."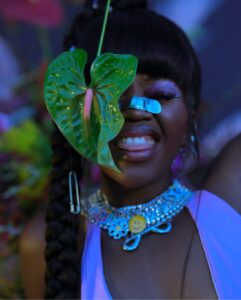 The 24-year-old Zimbabwean-born Australian rapper, lyricist and creative director first bounced into the Australian music scene with two precocious dance-pop hits: 2013's Brontosaurus and Handle My Ego (both featuring electronic producer Bad Cop). "In the early stages of my career, I was just trying to find the right people," she says.
2018 – the year Vol. 1 was released – marked a shift in personal growth. Tkay began to surround herself with a forward-thinking team who understood what she was trying to do. They helped her burst out of the Australian music industry bubble. Maidza's assured track, Flexin', featuring LA-based rapper Duckwrth, captures this moment in time well: "Minding my business as always / People don't get it, I'm awesome / Talking they want me to fail, I'm too busy to care / Fifth gear in a car seat / With a team behind me."
"There comes a point where you realize you can do whatever you want"
Tkay explains. "Especially being a Black artist in Australia. That's such new territory."
Being based in Los Angeles this year has also been a big motivator for change. "Everyone here is working to go up. If you're around the right people, it can be really inspiring to be around that energy."