The comic book industry has often been called into question for its lack of representative characters, from gender to race to sexuality. This year it was announced that Marvel will feature its first openly gay character in the upcoming The Eternals movie, but back in the '80s there was one comic book already leading the charge. First published in 1980 Gay Comix featured work and stories by the LGBTQ+ community that focused on issues not discussed in mainstream press and provided much needed information at a time when the AIDS crisis was never far from mind. Ryan Cahill meets the people behind the publication to unearth its important history.
The comic book industry has undeniably stood the test of time. You only have to look at the likes of Marvel and DC Comics to see the long-lasting cultural impact. Only last year, Forbes reported that Marvel alone was set to surpass a networth of $5billion, accumulated through the box office, comic sales and Marvel merch. But despite the fanfare surrounding the comics, there still remains an issue with diversity; namely a distinct lack of queer characters both between the pages and on-screen.
In 2018, GLAAD even went as far as to publicly criticise Marvel and DC comics for their lack of representation, saying, "It is becoming increasingly more difficult to ignore that LGBTQ people remain almost completely shut out of Hollywood's big budget comic book films that have dominated the box office over the past several years." Shortly after this, it was announced that Marvel's upcoming flick The Eternals would feature the first openly gay superhero, played by Brian Tyree Henry.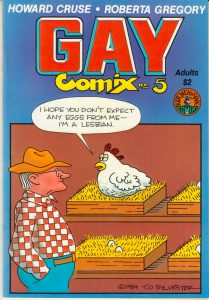 Howard Cruse (who sadly passed away in 2019) was arguably the backbone of the Gay Comix. Having established himself as a budding cartoonist in the '70s, Howard utilized much of his own personal experience and embedded it into his stories for the publication. It was the first instance in which he had openly addressed his own sexuality in his work, and led him to create the acclaimed strip Wendel (for gay publication The Advocate), which told the story of a gay man and his partner Ollie. It also gave him a platform to address many subjects which directly affected his community, including AIDS, gay rights demonstrations and gay bashing.
For many, Gay Comix became not only a source of entertainment, but a place where you could find vital information about gay life in the '80s. Flipping through its pages, it perfectly captures and successfully satirizes much of the sociopoltical queer issues that were taking place at the time.
Rather than specifically suggest the content they wanted, editors would instead give illustrators the freedom to input whatever it was they wanted to explore or discuss, which ensured the collection had a wide range of diverse stories that touched every corner of the LGBTQ+ community.