Luxury goes hand in hand with sustainability at Hilton Seychelles Northolme Resort & Spa – where you can "adopt" a coral, witness a holistic "Sustainable Day" and experience a green vacation on the main island of Seychelles, Mahe.
The splendid resort allows guests to live truly unique and special experiences, being immersed in a fairy tale atmosphere, suggested by the landscape, beaches, sea.
Guest are also invited to experience "Travel with Purpose" – Hilton's corporate social responsibility strategy to redefine and advance sustainable travel globally. By 2030, Hilton plans to double their investment in social impact and reduce their environmental footprint in half.
The resort has launched a program to protect and preserve marine and coral reef life along the Northwest coast. Guests have been encouraged to take part in the initiative by visiting these beautiful corals with a marine conservation specialist.
They can snorkel to appreciate the beauty of the coral reef, with the opportunity to "adopt" the coral on the spot.
There is also the option to adopt online, just a click away. The program aims to collect finger-sized corals, in order to transfer them to coral nurseries located in tanks, here they are cared for until they are ready to be transplanted back into the seabed.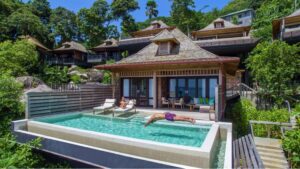 Guests can choose from a variety of corals for only 25 euros, choosing a name for the selected piece of coral, receiving an adoption certificate, an information sheet and the image of the chosen coral, an update of the growth after six months and the GPS location of the coral colony once it has been planted in the coral bay.
By adopting coral, 100% of the proceeds go directly to the Marine Conservation Society of Seychelles.
For more information visit the website!
The resort is 100% committed to eliminating plastic and uses only glass bottles and bamboo straws."Soap for Hope" initiative aims to recover the remains of soap by the hotel to transform them into new soap bars for communities in need.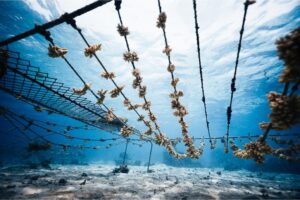 Every month the hotel establishes "The Sustainable Day" where the guests are encouraged by cleaning the beach, eating vegetarian meals and locally sourced, stop using  electricity and water in their accommodation for 1 hour a day as well as enjoying local and environment-friendly activities such as learning how to do the local Moutya dance.
The resort also shares all their sustainability activities via social media to encourage and inspire others to join them in their efforts to save the planet.