Mikky Eger is born in Hamburg and moves to Milan in the late 1980's to start her collaboration in the fashion business, designing her own label 'KASSIM MIKKY'.
She has designed shoe collections for important Italian companies such as SERGIO ROSSI and C.FERRARIO.
After that she worked for several years for the brand SWATCH in developing merchandising concepts, display design and artistic presentations of the new watch collections.
She has great experience also as a set designer for MTV and international TV spot productions.
Mikky  is currently teaching goldsmith's art at the ScuolaOrafaAmbrosiana in Milan.
She designs and produces her own jewelry collections in sterling silver, 750 gold and unique precious stones.
She is well known for her one-off ''jewelry sculptures'' which express her artistic nature and charismatic personality.
Each piece is handmade and represents Mikky's authentic and instinctive style.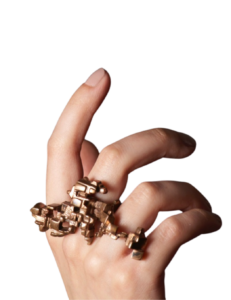 METROPOLIS
The big city, the famous film of Fritz Lang, the city live, are the futuristic inspirations.
Small cubes built one on each other are creating the ''one of a kind'' sculptures.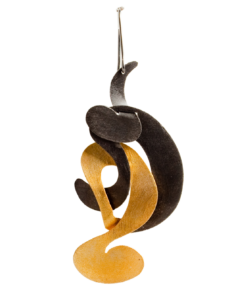 NEW WAVE
Jewels like soft waves that chase each others and interwine giving life to an extraordinary shape.
New Wave jewels – earrings, necklaces and pendants in 925 silver and silver dipped in rose or yellow gold – dress the woman who wears them in mythology.
Each model has the name of a mythological marine character, such as Atlas, Poseidon and Thetys, the most beautiful of the nymphs of the seas.